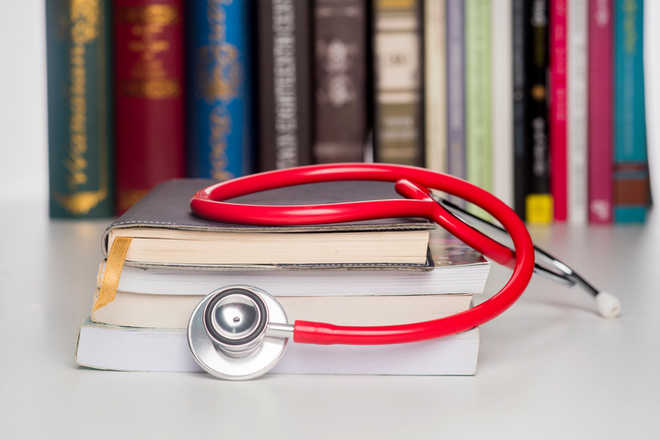 INDIA, the world's largest democracy with 130 crore inhabitants, has only a little over 10.41 lakh registered doctors. Out of which, only 8.33 lakh doctors are actually available for active service. It is a grim situation, especially for the ambitious 'Ayushman Bharat' project of the Modi government. Earlier this month, the government promised quality healthcare services to all citizens, including the poor, through the Rs 5 lakh per family insurance scheme. A well-intentioned announcement may, however, remain a distant dream, in want of well-trained human resources. India would require doubling the number of doctors by 2022 to provide basic healthcare to its citizens.
Amidst this challenging scenario, the government's intent to raise the number of MBBS seats in the country to 85,525 by March 2021 appears insignificant. This target is too small considering the currently available MBBS seats of 67,352. India needs to double the number of MBBS seats by expanding the existing institutions and by opening new medical colleges. This will require huge investments in infrastructure, human capital, latest equipment and modern technology. Scarcity of faculty is the immediate challenge. Teaching in India is not much valued and is considered less remunerative, compared to huge investments in medical education, both in terms of time and money. Bright medical graduates and trained doctors prefer to settle abroad where they get better recognition and higher salaries.
It seems that the National Medical Commission Bill, which is being enacted to reform medical education and practice, does not address this basic issue. Allowing private colleges to charge capitation fee at will for their 60 per cent seats would aggravate the problem of brain drain. Under the burden of education loan, the medical graduates would be guided by better returns on their investments rather than the Hippocratic Oath or the call of duty. A democratic country like India, where the majority is poor, cannot afford to rely on unregulated private health and education institutions. There are several examples of overcharging by them. The principle of laissez-faire should be confined to commercial ventures. Instead, the government should prompt corporates to invest their CSR funds in creating charitable medical institutions.
-- http://www.tribuneindia.com --