The global medical education market has a handful of players such as Apollo Hospitals, TACT Academy for Clinical Training, Zimmer Biomet Holdings, Inc. (Zimmer Institute), Olympus Corporation, Gundersen Health System, GE Healthcare, and Medical Training College. Transparency Market Research identifies Apollo Hospitals as the leading contributor to the growth of the overall market owing to its extensive course portfolio, strong market penetration in countries in Asia Pacific, and vast scope for practical hospital experience.
"Geographical expansion in several developing countries has been Apollo Hospitals' leading growth strategy, in addition to the acquisition of smaller local players," finds the lead author of the TMR study.
In July 2016, Apollo Hospitals Group signed MoUs with Kenyatta National Hospital and Airtel Kenya to not just focus on capacity building in the Kenyan healthcare sector but to also conduct educational lectures and training programs in the country. In the same month, the company signed an agreement with Hainan Ecological Smart City Group in China to develop a highly integrated modern healthcare service facility in the Hainan province, which is likely to lend nursing, medical, and paramedical colleges in the island city tremendous support.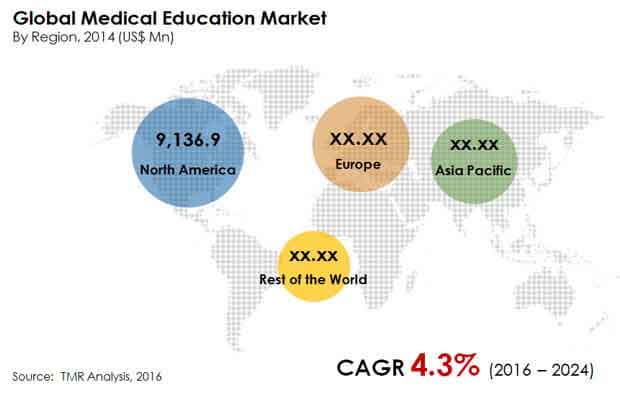 Advantages of Online Training over Traditional Modes of Education a Driving Factor
The demand for medical education is primarily driven by the growing preference for online education. "Online education is a highly lucrative investment avenue," a TMR analyst observes. "The exposure to modern technologies around the world and the increasing penetration of the internet has greatly fueled the preference of students for online education." Moreover, online training presents several advantages over traditional modes of education, including variation in training and educational programs, lower cost, comfortable and flexible learning programs, and opportunities for improved technical skills.
Read Report Overview @ https://www.transparencymarketresearch.com/medical-education-market.html
In line with this growing trend, TMR predicts that the emergence of e-learning markets in several developing countries will be a major opportunity for players in the medical education market.
High Tuition Fee a Major Roadblock
The cost of higher education, especially in developed countries, continues to pose a key challenge for low-income students. "Medical education is one of the most expensive fields and the tuition fee for classroom courses as well as on-campus training is extremely high. This acts as a major barrier for the medical education market," the author of the study says.
Request Medical Education Market Report Brochure@ https://www.transparencymarketresearch.com/sample/sample.php?flag=B&rep_id=517
In addition to this, the declining preference for distance education in medicine and paramedical training is likely to restrict the growth of the medical education market to an extent.
Steady Growth in Store for Medical Education Market
Expanding at a 4.3% CAGR over the course of the forecast period, the global medical education market is poised to rise from a value of US$25.9 bn in 2015 to US$38.4 bn by 2024. By mode of education, the medical education market is led by on-campus training. Changing student preferences will restrict the demand for distance training by 2024, TMR predicts. However, online training is fast emerging as a lucrative mode of medical education and this segment is likely to register the highest CAGR of 7.29% from 2016 to 2024.
By type of training, the demand for cardiothoracic training has surpassed the rest, while training in radiology presents the highest scope for growth. By geography, North America led the overall medical education market with Asia Pacific as the most rapidly expanding regional segment through the forecast period.
---
Source: https://www.medgadget.com/